Wnn Keyboard Lab offers basic IME functions as well as plugins and other advanced features for extended applications and contents.
We wish to join hands with partners interested in collaborating with us using these advanced features.
What is Wnn Keyboard Lab?
Smooth, easy text entry

A "data-adaptive prediction function" allows even smoother and easier text entry.

Customization using plugins

Users can add a conversion feature, keyboard image, signal tabs, dictionaries, etc. using plugins.

Multilanguage compatibility based on knowhow acquired through development of the Japanese version

A multilanguage package is planned to be released hereafter, which would allow text entry in different languages with the addition of language-specific modules.

External provision of text conversion feature

iWnnService (for external provision of the iWnn conversion feature) enables the Wnn Keyboard Lab text conversion feature to be used in other applications/IMEs.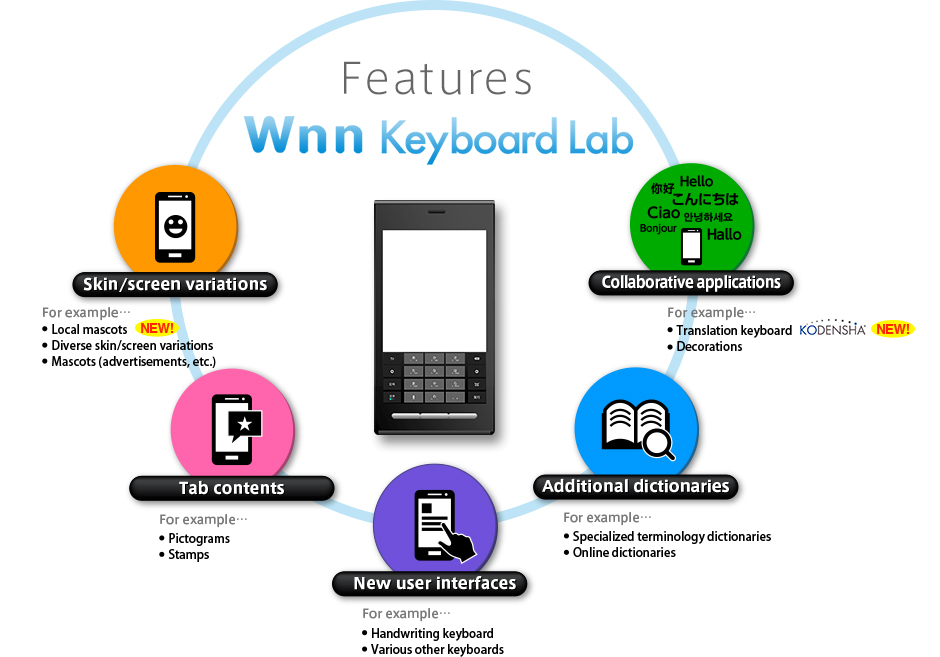 Contact
OMRON SOFTWARE Co., Ltd.
Information and Communication Technology Solution Division
Mobile Business Department

TEL:+81-3-6718-3712 E-mail:iwnn-support@omron.com